Blogs
UX, Business and Technology Mixed Together! - Part 2
Tuesday, Jan 08, 2019
So, you are building a product ... Do you want it to stand out! Do you want your users to enjoy it? If so, its high time to consider using latest technologies!
This is part two of my blog post that summarizes a set of latest technologies that would give your users outstanding experiences that will help you stand out in the market. You can access Part 1 from this link.
Part one discussed the following technologies: 
Part two sheds some light on the following technologies:
Facial Recognition
Code Scanning
360-Photos
Periscope
Facial Recognition

What is it?

Facial recognition (or known as face recognition) is a biometric method that is used to identify an individual through the comparison of live capture of or digital image data and  with an already stored record of the facial print of  that person.

Facial recognition has been used in creative ways in fun apps to take selfies  while having options of adding different animated effects to the selfie photo.
Mostly Used to:
Take selfies with celebrities that are predefined in an app.
For tourists who can selfie photos that include attractions and places.
Add funny objects to personal photos. This includes diving goggles and more.
Provide user authentication with face login.
Detect a photo when there are smiles.
Tag or mention friends on different social media networks.
Take class attendance or access secured area in a premisis.
Use Case:
Snapchat Selfie Lenses: Snapchat is continuously adding selfie lenses to it's app. It can now do fun things like transmogrify of a boring mug or cup into a cute, attractive puppy or make you shoot rainbows out of your mouth. Since it is a novelty that is prone to wear off quickly, Snapchat makes it a habit to introduce new lenses to keep the experience fresh all the time.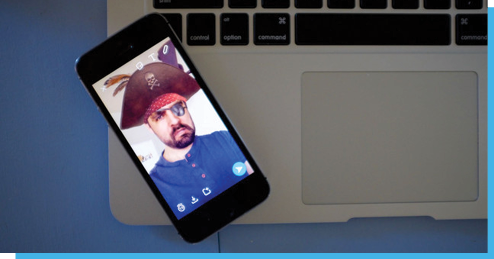 ---
Code Scanning (Barcodes or QR Codes)

What is it?

This process requires that the smartphone's owner points the phone at a QR code or a Barcode. Then he/she scans it from any wall, paper or object. The user then opens a Barcode/QR reader app that works in conjunction with the smartphone's camera. The reader app detects and interprets the code that should typically contain a call-to-action. Examples are an invitation to download a mobile app,  a link to watch a video or an SMS message that invites viewers to respond to a survey or poll.
Mostly Used to:
Share people's business cards and workstations with others
Use the codes to download and scan supplementary learning and references materials from e-learning course screens.
Display videos or quick references on specific machine packagings and/or components after scanning their codes.
Scan a code to know where in a garage or parking area have you placed your car.
Scan a product code to retrieve its information such as MyFitnessPal.
Use Case:
Homeplus Subway Virtual Store: In Korea, Homeplus has created a virtual store in a subways for  customers who are smartphone users. While waiting for their train, customers can use their smartphone's QR code reader to shop by scanning codes and adding items to their shopping lists for immediate purchase. 

---
360-Degree Photo

What is it?

A 360-Degree Photo is defined as a controllable panoramic image. This image surrounds the original point from which the shot is taken.

360-degree photos simulate the experience of  being in the shoes of a photographer who is looking in all directions including left, right, up and down freely with the capacity of zooming in certain times. Viewer can click any point on a 360 image to drag it in the required direction.
Mostly Used to:
Showcase events' halls.
Create virtual tours in hotels, resorts and touristic attractions.
Use Case:
360 Photos on Facebook: Facebook users can now share 360 photos. Simply, they can take a panorama picture using their smartphone or capture a 360-degree photo using one of the 360 photo apps in the market or using a 360 camera. Users can then post the 360 photo on Facebook as a normal one. Facebook will know the type of picture and onvert it to an immersive 360 photo that people can examine and enjoy.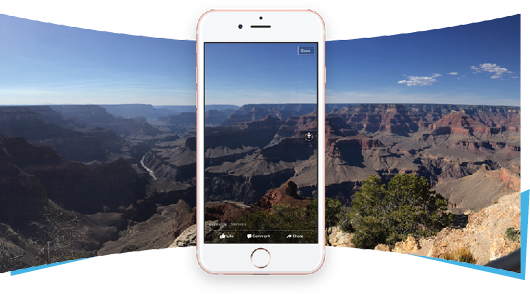 ---
Periscope

What is it?

It is a live streaming mobile video technique that was initiated by Twitter. This technique allows a user to talk in front of live audience. It is an app that enables users to create their own broadcasting station. Additionally, they can stream video and audio to other viewers who have joined the broadcast. Viewers can share comments right via the streaming view.

Periscope is an app that authentically takes advantage of mobile platform and potentials. It incorporates notifications and locations as well as social sharing, live discussions, feedback and more.
Mostly Used to:
Create tutorials and how-to videos.
Create videos for brand releases.
Stream videos exactly the same as what was there is Podcasts.
Create demos for products and solutions.
Showcase promotions and offers.
Stream live events to the world.
Stream webinars to different audience.
Announce exclusive offers and more.
Use Case:
Adidas and Periscope: Adidas is known as the the first major sports giant to jump on board the Periscop trend. It's first broadcast was unique and interesting. It lasted just 20 seconds and covered some disruptive conversation.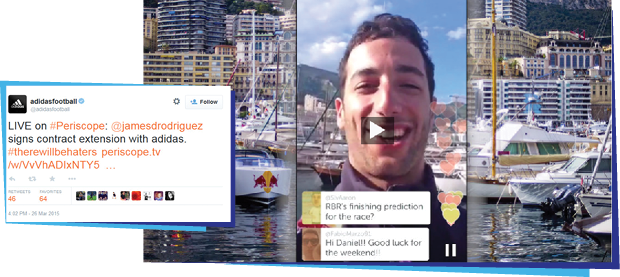 ---
Since nearly the end of 2016, I've developed a strong passion for this topic and I keep on researching, reading and adding to my knowledge on day-to-day basis while experiencing more innovative creations, technologies and inventions that keep me always excited 
I've been working closely with these additions. I thought that it would be great to consolidate all the experiences into one article for everyone to put it for a good use, build on the information included and enhance in it over time. 
Your insights are most welcomed!