Blogs
Business Intelligence for Beginners: what is it, what does it do and why an organization needs it? Part II
Tuesday, Jan 08, 2019
In part I of this blog we identified the difference between a range of terms such as data all the way through wisdom. We concluded that the more any organization can analyze data, the more they can improve its competitive edge. Now, let's answer what is BI?
Business Intelligence (BI)
Bi is an umbrella term that refers to a variety of software applications and a group of theories, processes and methodologies that are used to change raw data in any organization into useful information for business purposes.
BI as a discipline is composed of multiple related activities including: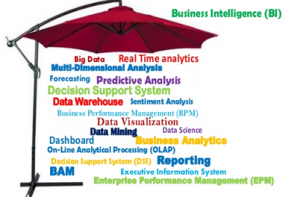 Querying and Reporting
Multidimensional Analytics (OLAP)
Data Mining 
Forecasting
Dashboards
KPIs
Examples of Business Intelligence Terms
Datawarhouse: This is the database when architected in professional manner for reporting and analysis of trends and target. It also tores all historical and current data.
OLAP: This is a way of answering multi-dimensional analytical questions in a very fast way.
Dashboards: This is a means to consolidate and arrange numbers, metrics, measures and sometimes performance scorecards on a single, unified screen.
Big Data: This means extremely large data sets that can be analyzed computationally to reveal patterns, trends and associations; especially those relating to human behavior and interactions.
Why Does an Organization Need BI? 

Best Tools for Business Intelligence and Analytics 
There are two view points for business intelligence.
The technical side is concerned with backend of the systems. It focuses on designing and architecting datawarhouses and scheduled jobs to transform up-to-date data. It also involves selecting and using the right BI tools for reporting, dashboarding and data visualization; depending on system needs and capacities.
The Social BI side is concerned with analyzing knowledge and insights via reports and dashboard. It focuses on enabling people to take not only the right decision but also the optimal one while giving them the ability to share thoughts and discussions before talking actions.
There are more competitive business intelligence tools in the market. It's not fair to single one of them as the best. We can judge how suitable and prefect is a tool according to how well it meets business-specific  requirements . 
This is Gartner's Magic Quadrant delineation of BI tools. Gartner is of course the world's leading research and advisory company in technology and digital trends.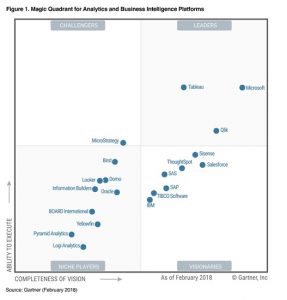 Top Business Intelligence Trends in 2018
Accurate and rapid insights help organizations of all sizes to keep their market leading positions and beat competition. This is why they are always keen to update or replace their existing BI systems.
"By the end of 2020, the worldwide business intelligence and analytics market is forecasted to grow to $22.8 billion – Gartner"
Building Master Data and Data Quality: This involves the consolidation of data from multiple internal and external/open sources and enriching data by applying advanced data cleansing methods.

Self-Service BI: This enables business users to  easily access and work with organization data even if they do not have technical or analytical background.

Data Governance: This will need focus from administrators to ensure that the right data authentication levels are applied to the right individuals at the right time.

Making Data Work with AI-Powered Search: This means that users can type natural language query or keywords to swiftly and easily obtain the required information.

The Emergence of a Chief Data Officer: This is a very important position for a key person who will be fully responsible for driving a culture of analytics at all business levels across the organization. 
        "90 percent of large companies will have a CDO role by the end of 2019 – Gartner"
Cloud BI: This will make analytics available everywhere and anytime in addition to reducing the costs of infrastructure and ownership.

Advanced Analytics: Powered with AI and Machine Learning, advanced analytics - just like predictive and prescriptive analytics - will provide rich and meaningful recommendations and insights to the organization.
"More Than Half of Large Organizations Will Compete Using Advanced Analytics and Proprietary Algorithms by 2018 – Gartner"